River Road Press Books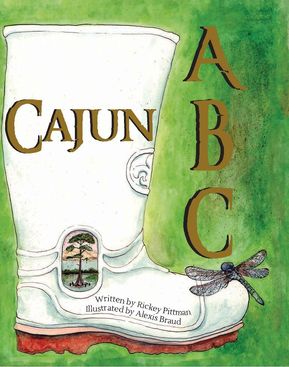 Cajun ABC (order now, ship date October 1st)
Written by Rickey Pittman and Illustrated by Alexis Braud

Pass a good time in Acadiana on this alphabetical tour of Cajun country and culture. The sights,
sounds, and smells of all things Cajun two-step off the page as readers are introduced to the
ABCs of the unique customs of the Cajun people. From the alligators in the bayou to the stars of
the zydeco stage, the food, music, literature, and language unique to the people of southern
Louisiana are delightfully rhymed and beautifully illustrated. This lively yet educational jaunt
showcases the famous Cajun joie de vivre and sets the stage for the reader's own Acadian
adventures.

With a heritage firmly rooted in the bayous and marshes of Louisiana for more than 240 years, the
Cajun people have established a way of life that reflects triumph over struggle. From the fanfare of
a holiday bonfire on the levee or the joy of a fais-do-do to the simple pleasure of a shared family
meal. A glossary of terms completes this beautiful primer to a unique way of life.

$17.99 (hardcover)

---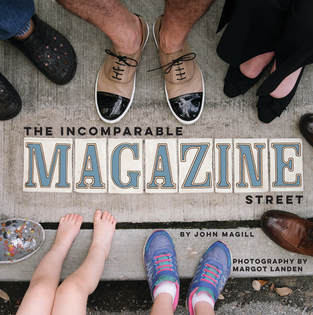 The Incomparable Magazine Street (order now, ship date October 1st)
Written by John Magill with Photographs by Margot Landen

New Orleans' Magazine Street has undergone remarkable changes over it's long history. From
an overlooked district of mostly unassuming residences and businesses, it has evolved into one
of the country's most dynamic and attractive business thoroughfares. Once host to
neighborhood grocers, druggists, and cleaners, today Magazine has become a destination of
fashion boutiques, gift shops, design studios, antique stores, and galleries. It is also one of the
most important dining and drinking streets in town. Still home to little neighborhood eateries,
Magazine now hosts some of the city's most renowned restaurants. Yet even with the
transformation the street has seen, the soul of Magazine retains its residential charm.

The Incomparable Magazine Street traces the history and culture of the road that curves
between stately St. Charles Avenue and the river. It speaks to not only how Magazine fits into
the urban growth of the Crescent City, but it also highlights what it has become: an enchanting combination of both elegance and the down-to-earth. A stroll through the book immerses visitors in history and nostalgia while introducing them to the people and places that make the six-mile-long street one of New Orleans' greatest assets. Glowing photographs capture the small details, the varying streetscapes, and the unique people that make Magazine Street one of a kind. The book also includes fascinating historic photos of Magazine Street from The Historic New Orleans Collection. While areas of the city have evolved into a world of visitors, Magazine Street has developed its own character that combines the past and present to become a vibrant community destination.

$45 The Incomparable Magazine Street is a 240-page hardcover coffee table book - perfect for gift giving !


---
A Tree in the Sea (order now, ship date October 1st)
Written by Holly Kern and Illustrated by 'Mr. Mardi Gras' Blaine Kern, Sr.

Colorful, bright, and engaging, world-renowned float designer Blaine Kern's illustrations
capture the whimsy and fun of wife Holly Kern's fanciful story about overcoming differences
and the joys of friendship.

In singsong rhyming verse, Holly Kern takes readers on a dreamlike tour under the sea.
There, dreamy wanderers meet a tree that is totally out of its element. Rooted to the sea floor
yet surrounded by the wonders of the ocean, the tree realized how lonely life is without
friends. But it is hard to make friends when we are different! As the tree slowly begins to
develop friendships with the various creatures that share the deep blue, the newly formed
relationships are threatened by a group of toothy sharks. With courage and strength, the tree
uses its differences to save the day. In typical Mr. Mardi Gras fashion, the aquatic friends
come together to form a parade celebrating their friendship.

$20 this is a wonderfully oversize hardcover children's book - perfect for gift giving !



---

Goodnight to da Parish (order now, ship date October 1st)
Written by Cornell Landry and Illustrated by Victoria Wisinski

There has never been a children's book about St. Bernard Parish – until now! Beloved
local author of Goodnight NOLA, One Dat, Two Dat, Are you a Who Dat?, and more, Cornell
Landry wanted to pen a book for his friends down in St Bernard Parish. While writing Goodnight to
da Parish, Landry worked closely with natives to make certain the book was authentic – and the
book they wanted – capturing the spirit, the soul, the history, the resilience, and the pride of St.
Bernard Parish and its people. Cornell takes readers from Rocky & Carlo's to Delacroix – and
everywhere in between – including 'da places dat's no longer dere,' like Bubba John's, Village
Square, Penny Lanes, and St. Mark's Fair.
$16.95 hardcover book


---

The Unhuggables (order now, ship date October 1st)
Written by Kena Sosa with Illustrations by Alexis Braud

Oliver is upset—very upset—and nothing his mother says makes him feel better. When she tries to give him a comforting hug, he rolls up into a tight ball like an armadillo and won't let his mother near. She tries to coax him out of his huddle but then his claws come out. Oliver pretends to be one ferocious animal after another—none of them very good at giving hugs. But it is hard work saying no to a mother's love. Through creativity, patience, and affection (as well as a healthy dose of humor), Oliver's mother finds a way to get through his imaginative defenses and give him the best hug ever. Author Kena Sosa captures the delicate dance between mother and child in this fun story about love and the power of hugs. The charming and humorous illustrations of Alexis Braud bring to life the imagination of a child and touchingly depict how hugs can soothe even the most savage beast.

$17.99 hardcover



Three Little Shrimp (order now, ship date October 1st)
Written by J. Steven Spires and Illustrated by Jonathan Caron

Three little shrimp are swimming happily with their troop… one adventurer, one follower, and one worrier. As their eyes fall upon the wonders around them, they suddenly get an idea. Two are ready to explore. The other is not sure. There is only one problem – unseen dangers lurk in the water. What will they do? Dive into the sea to follow three very curious little shrimp as they innocently explore and narrowly escape becoming a predator's next meal, egrets, red fish and a loggerhead turtle all love shrimp! If they make past those, they still have to contend with fisherman! This new and updated edition by author J. Steven Spires and illustrator Jonathan Caron improves on the original by providing both readers and teachers new and up-to-date information on this amazing crustacean with the addition of a page called "The Amazing Shrimp," a page packed with definitions, statistics and "you won't believe it facts" about shrimp!
$16.99 hardcover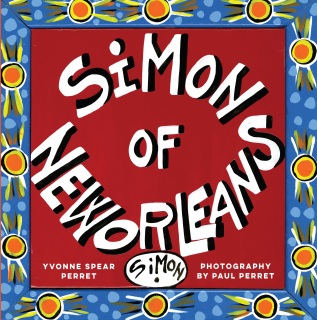 Simon of New Orleans
Written by Yvonne Spear Perret and Photographed by Paul Perret

Simon of New Orleans is a celebration of the exuberant, sumptuous, energetic work of the Artist synonymous with his adopted hometown. It's difficult to wander around New Orleans without stumbling across the explosions of color and whimsy that are the trademarks of a Simon piece. In fact, the scope of his work is unparalleled. Private collectors snap up pieces as soon as the paint is dry. Simon has endeared himself to locals and tourists alike, and they have responded to the unpretentious wit that is the hallmark of his art.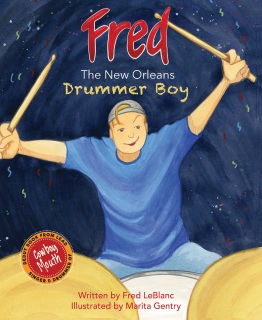 Fred The New Orleans Drummer Boy
Written by Fred LeBlanc and Illustrated by Marita Gentry

Fred LeBlanc, the lead singer and drummer of Cowboy Mouth, the New Orleans-based band that reached national fame with its rowdy rock-n-roll spirit and catchy songs, infuses a bit of himself and his bandmates into the characters of Fred and his friends in his debut children's book. He shares with his readers the power of friendship, the benefits of positivity, and a joyous love of music. Explore the City of New Orleans and its music with young Fred and his friends. Then go behind the scenes as Fred LeBlanc shares the personal story of how music has inspired and shaped this real-life New Orleans drummer boy.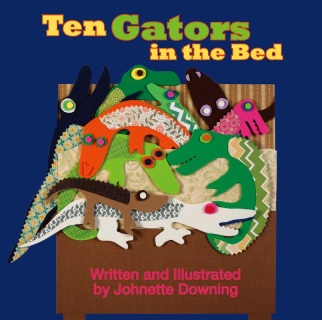 Ten Gators in the Bed
Written and Illustrated by Johnette Downing

True to her Louisiana culture, Johnette brings readers deep into the swamp where ten gators pile into bed in their Acadian home. Based on a familiar tune, this singing book, with vibrant foam and paper illustrations, is a perfect counting and bedtime story for babies and gators – who find out who gets to sleep in the bed and who has to sleep in the swamp!


---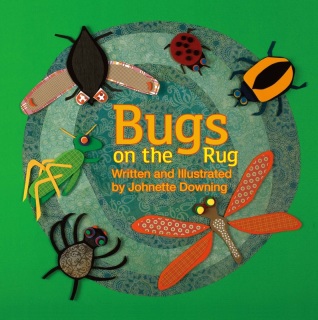 Bugs on the Rug
Written and Illustrated by Johnette Downing
Based on a song from Johnette Downing's Boogie Woogie Bugs album, Bugs on the Rug – with its singsong rhyming text – introduces babies and youngsters to the wonderful world of bugs. Illustrated in Johnette's bold, bright foam and paper collage style, the bugs seem soft enough to touch and pick up off the page. The accompanying song is available at
www.johnettedowning.com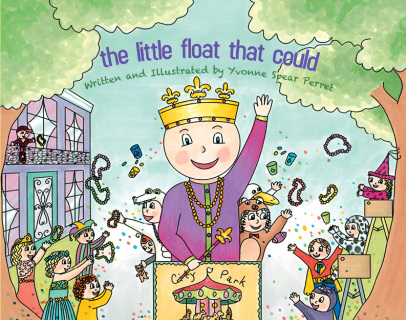 The Little Float That Could
Written by Yvonne Spear Perret, Illustrated by Yvonne Spear Perret and Marita Gentry

Can the Little Float make it over the big, tall bridge in time for the Mardi Gras parade? Based on the beloved Wally Piper tale, Little Engine That Could, this story takes place in New Orleans, Louisiana during Mardi Gras with parade floats and costumed children.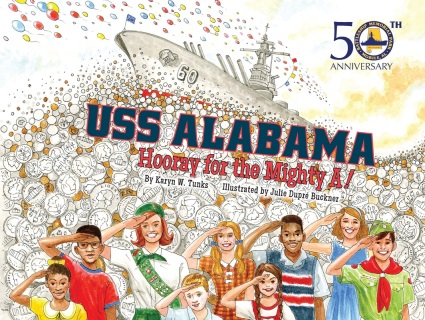 USS ALABAMA:Hooray for the Mighty A!
Written by Karyn Tunks and Illustrated by Julie Dupré Buckner

The USS Alabama has welcomed visitors to Mobile Bay since 1965, but without the help of some dedicated schoolchildren, the mighty battleship might have been lost forever.

Complete with a glossary, illustrated ship's diagram, and timeline, USS Alabama: Hooray for the Mighty A! offers young readers a glimpse of the fascinating history of the battleship and the way even the smallest of actions can produce incredible results.

Home to thousands of U.S. sailors, the USS Alabama fought bravely in World War II, but after she finished her service, the battleship was set to be scrapped. The people of Alabama decided they had to save the mighty ship named for their proud state. No one was more determined than Alabama's schoolchildren. Instead of spending their allowance, children gave their pennies, nickels, dimes, and quarters to save the battleship – and they raised almost $100,000! Their great effort helped save the Mighty A , and secure her permanent home in Mobile Bay.

Author Karyn Tunks traces the story of the children's efforts in this informative and entertaining account of the USS Alabama's service. Tunks reveals a wealth of detail about life at sea and the many challenges Alabamians faced in securing the ship's permanent home. Artist Julie Dupré Buckner captures the feeling of the era in her detailed, vivid illustrations of the ship, those who called her home, and those who saved her for future generations to appreciate and enjoy.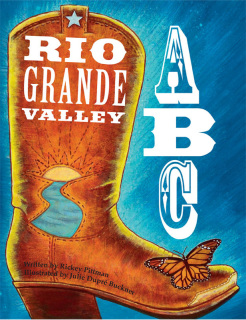 Rio Grande Valley ABC
Written by Rickey E. Pittman, Illustrated by Julie Dupré Buckner

Along the banks of the mighty Rio Grande River lies the heart of Southern Texas—the Rio Grande Valley. Steeped in tradition at the crossroads between the United States and Mexico, the Valley's residents have established a unique way of life, honoring their past and reaching for their future.

Brought to life through rhyming text and vivid illustrations, the sights and sounds of the Rio Grande Valley fill every page, from the flight of the aplomado falcon to the ride of Antonio Zapata and everything in between.

In addition to the shared history of Mexican and Texas battles and triumphs, author Rickey Pittman details daily life in the Magic Valley, displaying the delight of a daughter's quinceañera and the spirit of mariachi music. Illustrator Julie Dupre Buckner captures the hues of Valley life, from the bright butterflies gracing the grasslands to the clear night sky shining with stars.

The history and the heart of the Valley and its inhabitants, both human and animal, fill every page of this informative and essential book.


---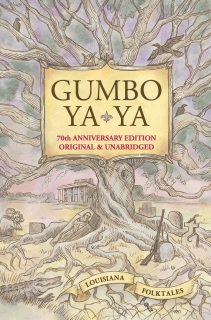 Gumbo Ya Ya - 70th Anniversary Edition !
Written by Lyle Saxon, Edward Dreyer & Robert Tallant with cover illustration by Julie Dupré Buckner

In these classic, fascinating, and often terrifying tales – Mardi Gras Indians, Baby Dolls, the Zulu King, Loup Garou, and the headless horseman of Natchitoches – all share the stage. Ghost stories from around the state mingle with the true horrors of figures like the infamous "New Orleans Axeman." Readers learn stories of the Creoles and Cajuns, southern church traditions, Voodoo rituals, hexes, and charms.

Gumbo Ya-Ya, "everyone talks at once," expresses the tension between refinement and profanity, the sacred and the sensual – which defines Louisiana culture to this day. This 70th Anniversary River Road Press unabridged edition's contents are wholly true to the 1945 original edition. First commissioned as a project of the Works Progress Administration Louisiana Writer's Program, it has stood the test of time and is a book beloved by historians, locals, and visitors. Long-time fans of this book, as well as new audiences, will certainly enjoy this timeless look into an authentic and fascinating look at Louisiana in Gumbo Ya-Ya.


Strange True Stories of Louisiana

Written by George Washington Cable with cover illustration by Julie Dupré Buckner

Seven unusual, true stories from Louisiana comprise George Washington Cable's Strange True Stories of Louisiana. First published in 1888, these stories are a wealth of cultural lore and historical facts. Cable's accounting of how he acquired the stories is equally fascinating.

Read first-hand accounts of the evil socialite Madame LaLaurie, Indians vs. immigrants, adventure by flatboat, slavery, and Louisiana law, the Civil War aftermath, and more. Stories include: The Young Aunt with White Hair; The Adventures of Francoise and Suzanne; Alix de Morainville; Salome Muller, the White Slave; The "Haunted House" in Royal Street; Attalie Brouillard; and War Diary of a Union Woman in the South.